Your Health is


Our Priority
The most advanced medical templates specialising in
every aspect of healthcare.
Evening appointments can be arranged.
Welcome to
The Therapy Company
Providing professional mental health diagnosis and treatment 
Our Consultant Psychiatric and Psychotherapy team provide professional mental health diagnosis and treatment to individuals aged 10 and upwards. We are able to offer fast access to treatment with appointments available at several  locations across Lancashire. In addition, to make the treatment process more flexible and accessible to you we also provide confidential telephone and online therapy services via video links. 
Why Choose Our Medical Services
Why you should choose The Therapy Company for your mental health needs.
Our team consists of six consultant psychiatrists with extensive knowledge and expertise in mental health gained over decades of working across numerous disciplines in the NHS and private consultancy.
The consultants are supported by a skilled team of counsellors, psychotherapists and medical administrators. Our specialist team of therapists provide treatments including counselling, Sexual Therapy, Cognitive Behaviour Therapy (CBT) and Eye, Movement, Desensitisation & Reprocessing (EMDR).
Our multi-disciplined team work together to deliver accurate diagnosis and effective treatment plans for a fast recovery.
Complete Wellness For You
Keep up to date with the latest news within the medical field.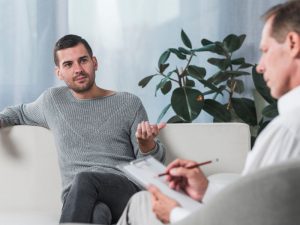 When To Seek Mental Health Support Mental health issues can appear in various different ways and when you least expect it. With at least 1 in 4 people experiencing a mental health problem in their lifetime, unfortunately this statistic shows no signs of slowing down and has of course been accelerated as a result of the pandemic. It's no understatement when we say that getting the right professional support and allowing experts like ourselves to
Read More »
Make sure to follow us on our social media channels